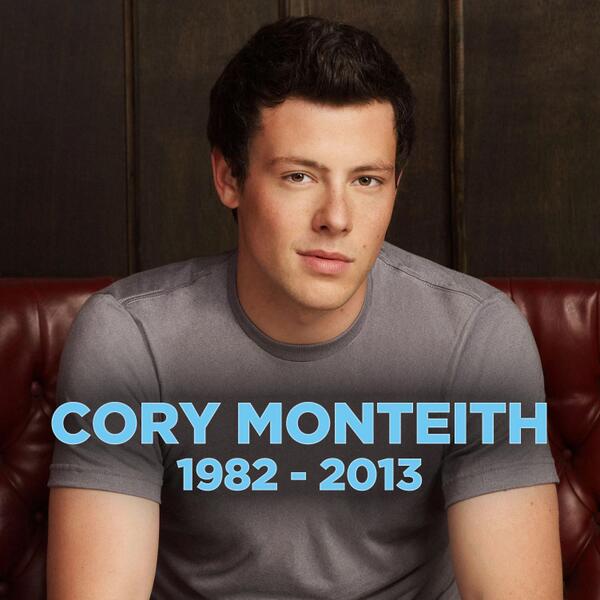 Esta mañana un fan de Glee ha escrito en Twitter:
"Ves y dile a tu ídolo que lo quieres, dile cuanto significa para ti. Díselo ahora que tienes la oportunidad ... yo no la tendré nunca más."
This morning a Gleek wrote on Twitter:
"Go and tell your idol that you love them, tell them how much they mean for you. Tell this now that u have the chance ... because I won't have it anymore".
Muchas veces no valoramos los momentos y las personas, hasta que se convierten en recuerdos.
Últimamente no dejo de estar rodeada de malas noticias, de gente que fallece, y de malos recuerdos que vienen a mi.
Tal vez sean consejos del destino diciéndome que aprobeche ahora que puedo, o tal vez sean solos malos instantes .... De todas maneras esto no deprime, ayuda a darte cuenta de las cosas; porque un día mirarás atrás en el tiempo y verás todo lo que has hecho a lo largo del camino; así que asegúrate de que cuando des la vuelta atrás veas solo cosas buenas.
A lot of times we don't value the moments and the persons until they turn in to memories. Lately i cannot stop of being with bad news, with people dying and with bad memories round me. Perhaps those are advices from destiny telling to me that I have to enjoy it now that I can do it, or maybe those are just bad moments ... Anyway this doesn't let you down, it helps you to make u know about things; because one day you will look back in time and you'll see all you have done along the way; so make sure that when you'll look back you'll only see great things.
Hoy ha fallecido Cory Monteith, protagonista de la serie Glee.
Yo sigo esa serie, y me encanta. Se que ahora cuando empiece a ver la cuarta temporada miraré a Finn (Cory) y pensaré que ya no está aquí, que todo se acaba y que nunca lo valoré mientras estaba vivo.
Cory y Lea estaban preparando su boda para dentro de solo dos semanas. Ahora por desgracia, han pasado de estar felices y juntos a tener que estar separados por un ataúd.
Lea pasará de vestir de blanco en el mejor día de su vida, a vestir a duras penas de negro mientras no se cree lo que está ocurriendo.
Today has died Cory Monteith, one of the Glee's principal characters.
I keep these televisión series, and I really love it. And I know that from now on, when I'll start to see the 4th season, I will see Finn (Cory) and I will think about the fact he is not already here, about everything ends and that I never valued him whilst he was alive.
Cory and Lea were preparing their wedding that was in two weeks. But now, they have passed from being happy and together to being separated from a coffin.
Lea won't dress her White dress for her best day in her life ... she will dress a black one while she won't believe what's going on.
Unos se van cuando deben irse, y otros ... otros demasiado pronto; tan pronto, que no te ha dado tiempo de recordarle lo que significaba para ti.
Lea, algún día echarás la vista atrás y recordarás momentos junto a Cory y, seguramente, los mejores momentos de tu vida han sido junto a él. Pero aunque parezca que no y aunque te cueste verlo, la vida sigue, pero esta vez, sin él a tu lado.
Some people leave when they must, and others ... others leave too early; so early, that you haven't got the enough time to tell them how much they meant for you.
Lea, one day you'll look back and you'll remember all the moments with Cory by your side and, for sure, the best moments of your life have been with him. But even if is hard to believe and hard to see it, life goes on, but this time, without Cory by your side.
Finn: Esta es tu propia estrella.
Rachel: Has llamado a una estrella después de mi?
Finn: No, lo pensé, pero al final la llamé Finn Hudson. Porque ya hay una estrella llamada Rachel Berry, y ahora mismo está aquí, delante mío, y brilla más que cualquier otra estrella en la tierra. Así que quería asegurarme que en cualquier momento que te sintieras sola, pudieras mirar al cielo sin importar donde yo esté, y pudieras saber que te estoy mirando desde ahí arriba